The Technical Maintenance Base of the State Flight Academy is located on the territory of the main SFAOU aerodrome (Kirovograd Town). All kinds of aircraft technical maintenance operations are conducted there. The total area of the Base is 8002 square km, including aircraft parking stands - 511002 square km.
Aircraft types and kinds of maintenance operations:
Auxiliary Power Plant Type

Maintenance Operations Kinds

AN-24USH


AI-24 II series.

TG-16

AV-72

All Aircraft systems, Power Plant and Auxiliary Power Plant systems, and their detailes.

Immediate
Periodical
Special
When Storing
Non-Destructive Methods of Monitoring.



AN-24B

TG-16Ì

AN-24RV

RU19A-300

AÍ-24T

AI-24T

AN-26

AI-24VT

RU19A-300

AV-72T

AN-26B

AN-32

AI-20D 5 series

TG-16Ì

AV-68

L-410ÓVP

Ì-601 D

V508D/7

L-410ÓVP-E

Ì-601 Å

V510/7

AN-2T, TP, agricultural

ASH-62IR

AV-2

YAK-18T

Ì-14P

V530TA-D35

NARP-1

ROTAX9125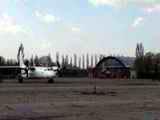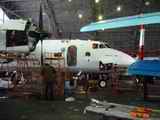 The Technical Maintenance Base has been issued the Technical Maintenance Organizations Certificate, all aircraft types and kinds of technical maintenance are specified there
Tel: (0522) 29-45-20

UKRAINE

MINISTRY OF TRANSPORT

STATE DEPARTAMENT OF AVIATION TRANSPORT

UKRAINE

MINISTRY OF TRANSPORT

STATE DEPARTAMENT OF AVIATION TRANSPORT
MAINTENANCE ORGANISATION CERTIFICATE
BP No. 0169
This is to certify that State Flight Academy of Ukraine
1, Dobrovolskiy str, Kirovograd, 25005, Ukraine
meets the requirements of the Ukraine Civil Aviation Laws under limitations contained in the attached Appendix. This Certificate is not transferable and, unless sooner suspended or revoked, shall countinue in effect until otherwise terminated.
Deputy Director

Effective Date

Certificate is valid till

27. 07. 2002.

27. 07. 2004.
AT No. 000950
UKRAINE

MINISTRY OF TRANSPORT

STATE DEPARTAMENT OF AVIATION TRANSPORT

UKRAINE

MINISTRY OF TRANSPORT

STATE DEPARTAMENT OF AVIATION TRANSPORT
Appendix to Certificate
Certificate ¹ ÂÐ 0169
Organisation name: State Flight Academy of Ukraine
Class

Aircraft

A1

Aeroplanes above 5700 kg

Antonov AN-24B, RV, T, RT

Antonov AN-26B

Antonov AN-32B

L - 410 UVP

L - 410 UVP - E

Maintenance

Current repair

Works on increasing of life limits and service life based on documents agreed by Ukraviatrans for the spesiment of the aircraft for which the works are to be carried out

1, Dobrovolskiy str., Kirovograd, 25005, Ukraine.

A2

Aeroplanes 5700 kg and below

Antonov AN-2T, TP,S/H

Yakovlev YAK - 18T

NARP - 1

Engines

B1

Turbine

AI - 24 II series

AI - 24 VT

AI - 20 D

M - 601D, E

B2

Piston

ASh - 62 IP

Ì - 14 Ð

ROTAX 912 S

B3

APU

RU19A-300

TG - 16, M

Specialised services

D1

Non Destructive Inspection

Magnetic particle

Eddy Current

Liquid penetrant

D2

Data retrieving (FDR and CVR)

MSRP-12-96, K3-63, SARPP-12, BUR-1-2G, MS-61, Tester-U3
Tel: (0522) 29-45-20
Email : info@sfaou.com