The main task of flight simulator training is the high level of flight safety. At present, there are the following complex flight simulators at the State Flight Academy: Yak-42, Yak-40, An-24, An-26, L-410 UVP aircraft and An-2 Yak-18A aircraft for pilots.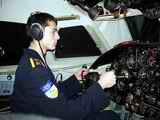 The proof of the simulator training effectiveness is aircraft incident preconditions statistics. In all cases, the flight crewmembers acted fast and correctly, which is the consequence of simulator training.
The SFAOU Flight Simulator Centre instructors and technical staff are high-qualified professionals and have the great experience of teaching cadets-pilots, cadets-engineers and persons who pass the re-fresher training.
The well-trained instructors and perfect organization of flight simulator training provide for the flight personnel excellent training and as a result the safe flying both in normal and abnormal conditions.

Prorector on aviation safety - V. Degusar
Tel: (0522) 29-44-05
Email : info@sfaou.com