At present the State flight Academy provides training on the following in English medium :

1. AIRCRAFT FLIGHT OPERATION (CPL commercial pilot for single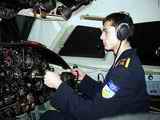 engine aircraft, CPL commercial pilot for multi engine aircraft),

2. AIRCRAFT PRODUCTION , Technical Maintenance and Repair (technical diagnostic and non-destructive methods of monitoring, flight engineer),

3. AIR TRAFFIC SERVICING (air traffic controller, air navigation information and flight planning officer, computer flight servicing officer, emergency servicing and flight safety officer).
Tel: (0522) 29-47-55
Email : info@sfaou.com