The English Language Department (Intensive English Teaching Centre) is the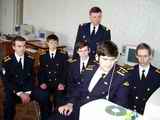 training, methodical and scientific centre of the primary training, re-training and re-fresher training for flight and ATC staff.
22 high-qualified instructors work at the Department, including 6 persons who have scientific degrees and academic statuses and 8 persons of educational staff.
The personnel of the Department passed re-fresher training and probation in the centers in Great Britain and is issued English Language Teachers Certificates, and also the Certificates for General and Aviation English Courses and Aviation Phraseology Courses Teaching.
The English Language Department provides the cadets primary training according to the certified programs in General and Aviation English, Professional English and Aviation Phraseology.
The modern methods of teaching, including computer versions of automated teaching systems, are based on the humanistic concept of professional-oriented memory development and give the opportunity for aviation personnel training up to the 4th level according to the new ICAO scale.

Tel: (0522) 29-47-71
Email : info@sfaou.com